The CPD Accredited, one-of-a-kind mentoring experience, intentionally designed to help you scale to multi-six-figures and elevate every part of your business as you step into next level revenue, authority and fulfilment in as little as 6 months.
How would it
feel

to...

 

Be widely known for a powerful, scaleable lust have offer that delivers enviable results to your clients and predictable revenue every month to you.

Step into a one:many or many:many business model that takes the pressure off and gives you more time for those things you love?

Be proud of your soul-led evergreen sales system bringing aligned clients into your world weekly on repeat in the most effortless, joyful way?

Have security in your business because you have the structure, systems and team running the back-end like clockwork.

Create consistent 5k, 10k, 20k, 50k+ months and the salary you need to create those things you've had on your planner for the last few years.

Step into next level mastery as you uplevel your inner game through mindset, energetics and nervous system work.
Because Elevate Collective gives you everything you need to do that,
and more

.
The sad truth is, most businesses aren't ready to scale.
A number of foundational elements need to be in place and most coaches don't teach this. Because most coaches don't know this.
Yes, you need a scalable offer. Yes, you need a scalable sales system. But each of these things need the structure, systems and foundations to hold them as they scale.
This is why many who scale are on a one way ticket to burnout and a queue of unhappy clients. They simply don't have the foundations to scale sustainably.
And those who want to scale, don't know how to get there.
You've probably experienced this yourself. You know you could take things to the next level. You want to double, triple [and more] your revenue, profit and salary. You want to build a team so you can work less and do those bucket list things you always thought your business would create for you.  
But so far it's not happening, and you don't know how to make it happen. So you stay where you are, where it feels comfortable, doing it all, fearful of changing anything as you feel all those things you're balancing will come tumbling down.
Inside 
Elevate Collective

, you get the scalable offers and the scalable sales system, but you also get the foundations you need to hold you firm while you scale or when the winds of change come calling.
This Is A Mentorship Like No Other.

Elevate Collective is a carefully curated experience that gives you a customisable business journey driven by your unique desires, needs and vision.
One that gives you exactly what you need to grow then scale sustainably so you don't have to invest in another course, coach, program or mastermind while you're with us.
Because, unlike any other program in the industry which only teaches ONE of the two essentials to scale, Elevate Collective shows you how to create BOTH: 
❶ The capacity - emotionally, mentally and physically - to hold space so that you can scale in a way that is sustainable, enjoyable and personalised
And




❷ The non-negotiable strategic foundations that hold your business firm as you expand; enabling the consistency, reliability and security you crave.
You'll be supported...
by our

expert team to

...
✓ Fully step into your power so you can grow your business in a way that owns your unique genius; is aligned to your core truths, and builds unshakeable self belief as you infuse an elevated version of you into new positioning, messaging and offers.


✓ Create (or optimise) a high-value, evergreen signature program that helps you scale to multi-six or seven figures creating deliciously reliable monthly recurring revenue so you can finally release the anxiety of rollercoaster cash flow moments.
 
✓ Create a soul aligned, evergreen marketing and sales system that attracts ideal clients on autopilot, without the need for exhausting launches.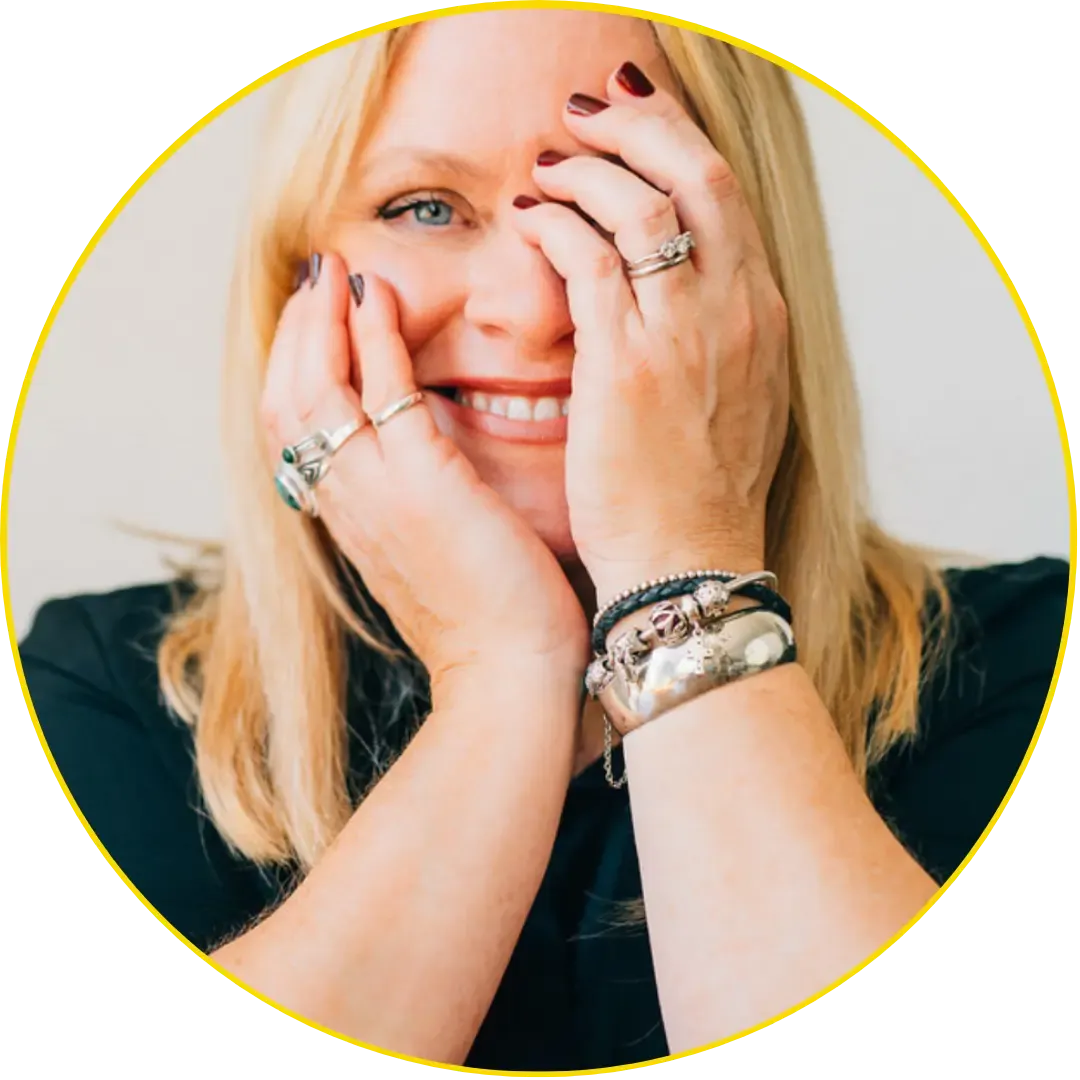 ✓ Be the lust-have choice for your ideal clients that means they buy from you over and over again through creating powerful experiences that help you stand out from your peers and improve your retention.


✓ Create more space in your schedule for your biggest pleasures in life, because you have the structure, systems and support that runs your business without you having to be at your desk.


Of course this is reliant on you showing up and doing the work inside, but we'll help you with that.

You'll have me and a powerful team of expert mentors and coaches to hold you as you move through the resistance that comes with growth.
"From mentor hopping, to THE ONE! Working with Gemma has been powerful to my personal and business growth. Every aspect of my business is THRIVING. Her team and the Elevate community is amazing. I finally feel I have a mentor I trust and a community of powerhouses. I especially love Ascension, the 90 day reviews and Gemma's group mentoring sessions. Kelly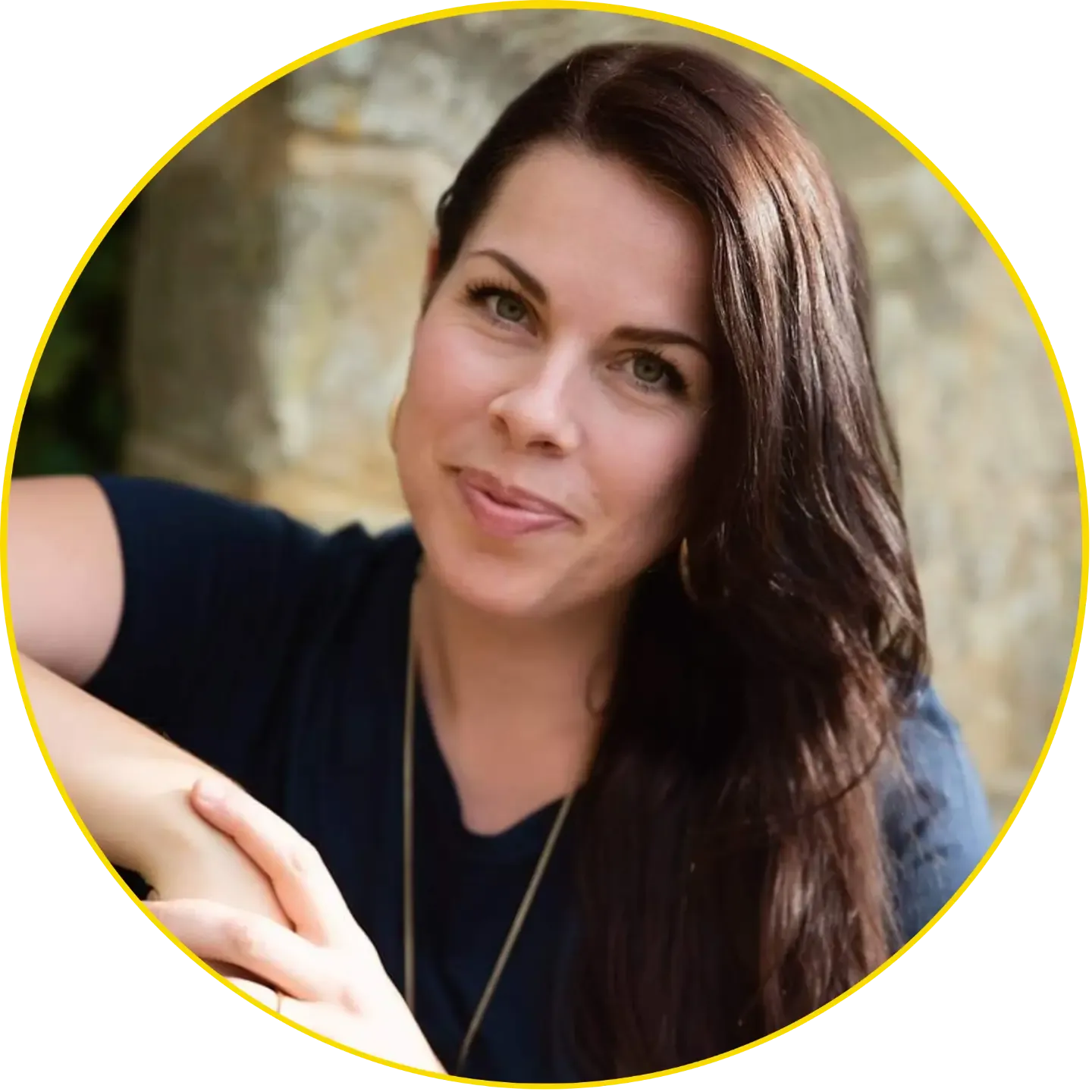 "Best decision I've made so far! The support is like no other, and you get all the guidance you need to grow and scale.
It's helped me to let go of a few streams that don't serve me and to clarify and work on my signature evergreen offer. The energy and connection is so beautiful, it genuinely is like being home. I feel safe to be me and the depth of guidance is EVERYTHING."

Awena
Why Elevate Collective Is So Unique

.

This program leverages the unique Scale with Soul Method®, an industry leading approach that helps you expand your business to serve unlimited clients without it costing you more time, money or fulfilment when you do.
The Scale with Soul Method® is a powerful synergy of four focus pillars essential to sustainable business success.
Within each is a set of powerful projects that will give you all you need to move forward within that pillar.
Each project, each training, each template helps you to create inevitable success foundations® that will hold you as you scale, without having to increase resources or expenses as you do.
Here's Exactly What You'll Learn...
...From Our Four Core Pillars:


❶
REVENUE ESCALATION

The key to enjoying the freedom of a sustainable business is knowing how to create recurring revenue streams that give you precious time back.
In this pillar you'll learn how to optimise an existing offer or create a new one based on our signature evergreen model that helps escalate your revenue to predictable 10k, 20k or 50k+ months in as little as 6 months, get to grips with your business numbers and create scalable sales with a sales machine that aligns with you.
❷
EXPERIENCE ACTIVATION

Want an industry-leading program that clients rave about to others? It all comes down to knowing how to create deeply powerful client experiences that increase retention and solid-gold testimonials that sell your program for you whilst minimising cancellations and refund requests.
Inside this pillar you will understand how to use experience design to immediately improve the quality of your offers, build out a team that ensures your clients are looked after and create scalable operations that will hold you firm no matter what is thrown your way.
❸
EVERGREEN ELEVATION

To fill your evergreen offer and create clients on repeat, you need a fully aligned evergreen marketing and sales system. Our much loved system doesn't crow-bar you into ill fitting funnels you hate. Instead we help you build out your foundational marketing system based on the activities you love. This can then run and run, attracting, engaging, nurturing and converting, on repeat.
We also show you how to ramp up your marketing with webinars and workshops, affiliate systems and experience funnels.
❹
MASTERY MAGNIFIER

Your greatest point of difference in a noisy online world is knowing how to embody your mastery as the lust-have expert in your field.
In this pillar you'll discover how to fully step into your power with a blend of high performance habits, energetics, subconscious rewiring and next level authority and identity.
We do this by helping you pull out that unique positioning, create a signature approach and elevate your authority.
"If you're looking at this, do it .. you won't regret it! My business and branding are more aligned and more beautifully me than ever before, and I've stripped away offers that were clogging up the system and swallowing my time.
" It's a breath of fresh air that's helped me deconstruct all the shoulds I was holding on to from working with previous coaches, and build myself a beautiful palace around my unique skills and abilities rather than feeling I had to fit into a pigeonhole. Abi
"I was in a business mess before, I had money coming in but there was no room, clarity or alignment to expand it. Now, it's taken some work but I feel more aligned and confident than ever, I have run my first beta group which is a massive step up from my 1:1 stuckness and pointing me in the direction I want to go, I have systems and structures in place, it won't be long before I start hitting those £10k months!" Gareth
Here's What's
Inside

:

 

We have a range of support that meets you where you're at.

We don't believe in overwhelming you with things you don't need for the level you're at.

So you move through your Elevate Collective experience only using the elements that YOU need, when YOU need them.

Following one of three pathways that give you what you need at your level.

Here's the full detail of what's available across our three pathways.
Hit The Ground

Running
With Our Business Simplification And Schedule Redesign Tool
[Value £500]
We focus on removing those things that don't support your growth. As soon as you join you have access to our Business Simplification Tool. With this you can identify those areas you can remove, to free up time for you to dedicate to your growth inside of Elevate Collective
Once that's done, you move to the schedule redesign, where we show you how to optimise your time and redesign your calendar so it supports you, not the other way around.
Get A Bespoke

Growth Plan
From Your Breakthrough Session with me
[Value £1,000]
The first step to growing or scaling is knowing what will shift the needle in your business.  Which is why, in the first 2 weeks of joining, you'll access a 1-1 kick-off call with me personally.  
In the space of ninety minutes, I'll show you where the biggest gaps and opportunities are to scale in your business right now; as well as which unnecessary activities you can ditch that you may have missed in our Business Simplification tool so you can free up space to scale without burnout.  
You'll leave with a laser-focussed roadmap to start taking action straight away, so you can get going on the right project pathway for your level.
PLUS I've added in a 30 day cash injection plan to help you improve cashflow before you even start.
"The 1:1 session with Gemma alone changed everything for me - having that expert knowledge on my business that sets me on the right path before I even start on the training within Elevate Collective, means everything."
Keep On

Track
With Our Powerful Success Dashboard
[Value £900]
In Elevate Collective we go the extra mile to ensure you'll never second-guess what to focus on and when. To help keep you accountable, you'll access a personal dashboard to track your key metrics which means at a glance you'll know how you're tracking, and we'll know if we need to step in to help you.
Accountability is essential and our structure means there's no way you will invest in this experience and then be left to your own devices.
Also inside the dashboard is a handy audit tool where you can see exactly which of our projects or training you need depending on your specific needs, allowing you to create a bespoke journey that suits you and your business model, and ensures you never waste time on activities that don't.
Unlock Your Establish, Grow or Scale Pathway 
And implement your multi-level priority projects
[Value £5,000]
Inside of our Scale with Soul Method, we have two pathways: 
ESTABLISH: For those looking to reach recurring 5k months.
GROW: For those looking to reach recurring 10k months.
SCALE: For those looking to reach recurring 30k+ months.
In each of those pathways are our power projects.
Not all clients complete all projects as they don't need to.  Instead we create a bespoke journey with only the most relevant projects you need to reach your goals.
And in case you're wondering, NO - this is not just a library of every training I've ever done [#lazy].  It's not filled with fluff, broad concepts or theories like other programs, leaving you to fill in the gaps alone. This is an expertly designed suite of business building projects for you to plug in depending on what you need. 
Hint - you won't find a ton of pretty pdfs or swoony high-luxe imagery to distract you because in Elevate Collective we focus on delivery and results.  
The
Establish
Pathway Projects.
The
Grow
Pathway Projects.
Unlocking Your Unique Genius
The
Scale
Pathway Projects.
Gold Standard Affiliate System
Hiring A Many To Many Dream Team
The Little Black Book Of SOPS
The Authority Accelerator
Access

The Study

+ Template Library
For all those extra things you need, when you need them.
[Value £2,000]
Need a crash course in Youtube? You've got it. Total newbie at Facebook Ads? We have you covered. Need to SEO the hell out of your website? It's in here. Need a meditation to reset? Come sit down!
Unlike so many other online courses and programs where you're often left wondering, "But how do I do that part?" we have every imaginable action, implementation and execution step covered in our Study. Inside of this exclusive vault are over 50 additional training resources that you can plug into as and when you need them.
Need a template?
Then our Template Library will light you up. We give you pretty much every template you need, from a work with me page, to graphics templates, to client experience templates.
But the template of all templates is an all access pass to The Lighthouse Playbook, the 'actual' book of SOPs we use inside of my company, ready for you to hand over to your team and uplevel your ops immediately. You'll find this in our Little Black Book of SOPs Project.
Yes you read that right. You get a copy of our actual SOPs playbook to plug into your business!
I Know What You're Thinking...

"But, Gemma, I've joined programs before, got lost in the content and didn't finish it…"
In Elevate Collective that's simply not an option. Not only will you get the one to one breakthrough session from Gemma, giving you an immediate, customised blueprint to follow, but you'll also access:
High Level

Mentoring
Join me twice a month for a session at your pathway level to ensure aligned learning
[Value £6,000]
Each pathway has two calls with me a month with conversations aligned with your level of growth, one in the morning and one in the afternoon to allow for time zones. Come and get your burning business questions answered and tap into the behind-the-scenes insights of how others are growing and scaling their businesses.
Weekly

Accountability + 1:1

Support
From Kerrie And Our Unique System That Guarantees Results
[Value £6,000]
In addition to the dashboard, you'll also get access to Group and 1-1 accountability support with Kerrie - our success mentor - every.single.week! Kerrie has worked with me for years and is now a permanent member of our team. She knows my frameworks inside out after graduating from the first cohort of my Conscious Consultant Certification and is absolutely fantastic at supporting clients to navigate their growth journey. You'll be able to check-in with Kerrie on Telegram every Wednesday between 10-11.30am, and again from 3-4.30pm, in a 1:1 channel where you'll both use your Success Dashboard as a project planner to keep you on track for your goals.
Each Monday you all meet with Kerrie as a group to share what you will complete that week and anything that might hold you up, so you get support on how to navigate that.
30 & 90 Day

Reviews
To Reflect, Release, Retain, Reset
[Value £2,000]
Kerrie runs the 30 day reviews and guides you through the planning sheet in your success dashboard using our Four R's Method: Review, Release, Retain, Reset, ensuring you're on target to reach your goals and uplevelling every single month.
Then I run the 90 Day Upgrade where she invites you to go inwards with powerful exercises, before taking you through the Four R's Method for the quarter, learning what you need to learn from the past quarter and taking that forward as you plan the next.
Weekly Copy Reviews By
Lola
Get it when you need it most.
[Value £2,000]
With all the will (and swipe files) in the world, sometimes writing your copy just needs another pair of expert eyes on it! Our incredible expert Lola runs weekly copy reviews on Tuesdays and Thursdays so you can submit your copy every single week, and get Lola's review within just 24 hours, ensuring zero hold ups in your creative process. Lola is the queen of turning words into wealth and stories into sales. What really sets her apart is her expertise in storytelling, and in these copy clinics she'll show you exactly how to craft your experience and expertise into powerful story-based copy that opens people's hearts (and wallets).
Weekly Nervous System Sessions with Jo
For essential recalibration and integration as you elevate.
[Value £2,000]
We all know it takes more than strategy to create the rise to the next level, which is why in Elevate Collective you'll also access weekly nervous system sessions to help you expand your physical and emotional capacity to receive and sell more in your business.
Jo is a trauma-informed psychotherapist and Nervous System Health and Relational Neuroscience coach. She combines 30 years of working creatively and therapeutically with people to offer deep insights and wisdom into how your body and brain are operating.
In this powerful group session, Jo will share a new nervous system technique with you each week that you can take away and use at home.
And if this phenomenal support from me and my team throughout your time with us wasn't enough...

You'll also access the power of leveraging the unique and incredible Elevate Collective community
[Value Priceless]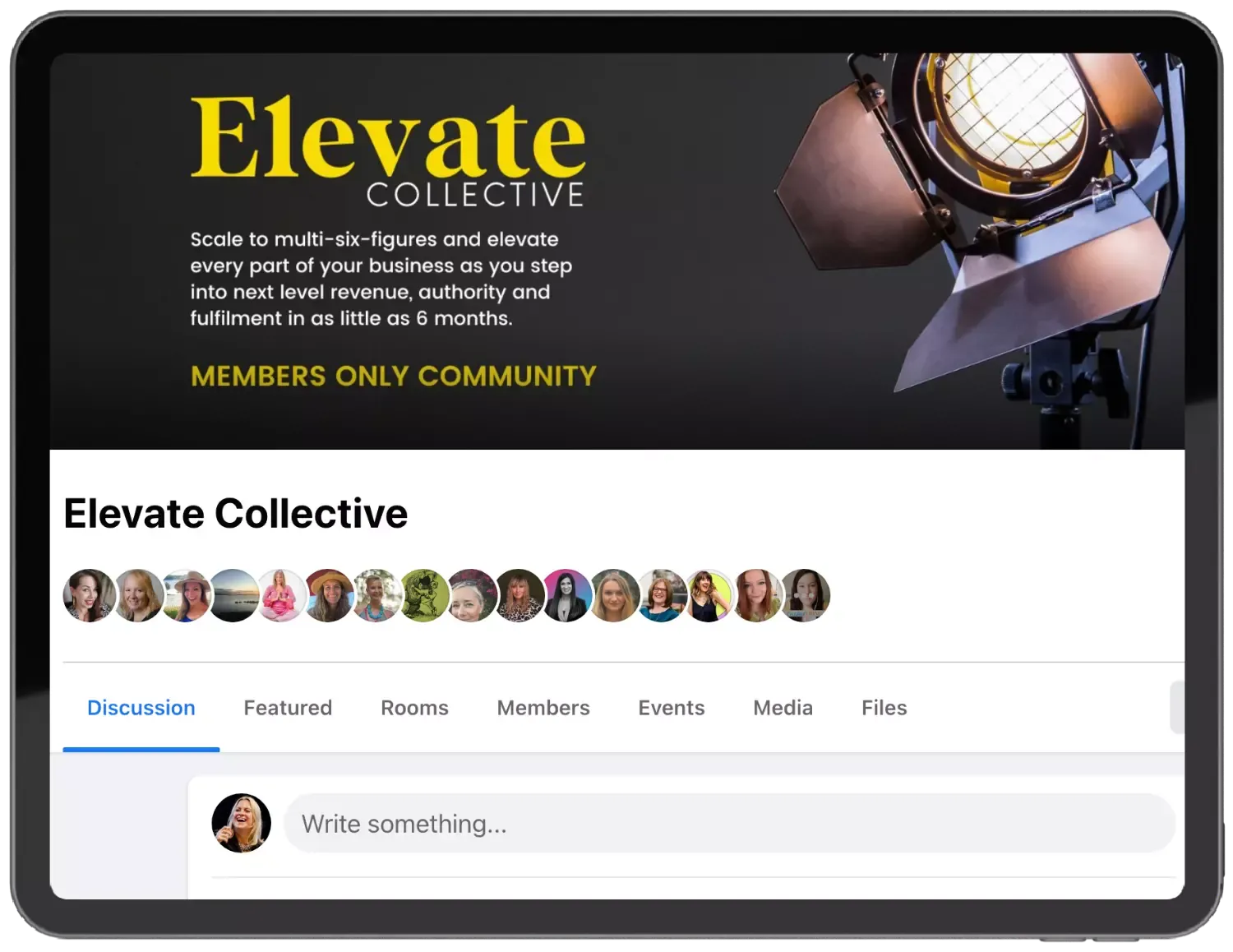 You'll access a safe, supportive and inspiring space for daily connection with like-minded leaders, sharing your journey and supporting you as you scale, as you do the same for them.
"Just want to thank Gemma, the team and everyone on here for creating such a safe space for us all to be in. I genuinely feel like it's a lil home where I can just be, connect, learn, grow, show up, ask for help and support, offer support.... and to be authentically in the space I'm in.
So thank you. I appreciate you all and love this warm cozy and inspiring space"
Say goodbye to overwhelm, confusion and second-guessing your next business move.

We support you personally to create a tailored Elevate Collective journey that works

with you,

allowing this experience to blend with your life rather than leaving you constantly in catch up mode.
"If you're looking for support with no hustle and hassle but will still get you the results, this is probably for you. There is a lot of value here. Not just practical knowledge and guidance, but Gemma goes out of her way to support you. There's a brilliant mixture of 'get it done', (and a lot to do!), but I never feel anything is a chore, or is difficult. The community is one of the 'safest spaces' I've been in." Karen
If you're thinking you don't get access to me as I have a team, you do!

I'm active in the Facebook Group, run the 90 Day Upgrade Sessions and run pathway calls each month.
"I love the amount of access we have in the mentoring calls and feeling that Gemma knows my business. My list is growing as I now have a better lead generation system. I'm giving Masterclasses and I'm very focused on creating lust have offers that are right for now. I love the integrity and heart - that sits in the centre of this business focused program." Nicola
Worried you won't be able to fit it all in with your current schedule? Worry not.

From day one you have access to our business simplification and schedule redesign tools to free up space and lock in the time you need to dedicate to your business growth inside of Elevate Collective.
"Elevate Collective is the warmest, most genuine group that I have found online. Gemma attracts the most wonderful people and I'm encouraged and inspired by them daily. As well as the community the mentoring, training and resources are so helpful in keeping us moving forward and growing our businesses. Gemma doesn't just deliver, she surprises and delights us with so much more than we expected when we joined." Kate
"It' a game changer. The projects, study and weekly sessions give you everything you need to grow your business in a sustainable way, whilst giving you access to an incredible community of likeminded people. Gemma is an incredible mentor and someone I trust implicitly, her and her team provide so much value and support. The mentoring calls with Gemma are a must and I always feel seen, supported, and like I have an incredible team walking alongside me. Gemma is a mentor who truly embodies integrity, she is a true leader in an industry that needs a shake up. She is incredibly fun to work with whilst also helping you to grow or scale. Her warmth, experience and energy instantly puts you at ease." Carolyn
"It's a very worthwhile investment, the level of support is unparalleled and the community is amazing. I've really enjoyed it, particularly my sessions with Gemma as I signed get her knowledge and eyes on my business, but having the other sessions available is brilliant. It's helped me to clarity my ICA, honed my message and the hypnotherapy has been fundamental. I'm massively levelling up and I know it's because of Elevate." Emma
PLUS

 you could get your hands on these incredible bonuses* valued at a total £4,500

To help you amplify your authority to a wider audience as you Scale with Soul.
Bonus #1

An all-access pass to Ascension, my powerful inner game program.

Value £1,000

You cannot scale sustainably without doing the inner work.

True ascension needs mind, body and soul onboard.
And that's why I'm including this business-changing, life-changing bonus when you join. This experience heals at the subconscious, energetic and nervous system levels, while you do the work inside Elevate Collective to scale to the next level.
Ascension combines subconscious reprogramming to rewire the negative narratives that hold you back; energy editing to clear stuck emotions in your system your growth; nervous system exercises to help you recalibrate and supportive embodiment practices to help you get out of your way.
This is the ultimate in BEING and DOING.
"Since starting the program and doing the work my business has exponentially grown. This month I had my first ever 25k month!
I totally put this down to the amazing deep work in Ascension."
Lesley
"I love Ascension as it gives a fantastic framework for you to personalise your mindset work each month
. The combination of fixed elements but which change in focus each month really keeps it fresh and dynamic."
Jenny
Bonus #2

Elevate Your Authority As A Speaker At Our Summit

Value £2,500
As a member of Elevate Collective you'll have the incredible opportunity to speak at our Elevate Summit as a lust-have industry expert in front of over 500 attendees.
Your brand will also get exposure to an audience of over 20,000 as part of this promotion, plus you'll access the recording of your talk to add to your speaker reel. We'll even provide an intensive training to get you stage-ready so you can wow the crowd!
Bonus #3

Get Exposed To An Audience of 20k In Our Experts Directory

Value £500
All Elevate Collective members are welcome to join our Expert Directory by adding an extensive bio, guest expert topics and a link.
This is a powerful way to get in front of a new audience and generate new leads.
Bonus #4

Get A VIP Invite To Our Elevate Collective Annual Event

Value £500
Each year the members of Elevate Collective come together for a two day, in person event to connect with our team and the fellow members and learn the latest trends that will spark ideas and add rocket fuel to your scaling journey.
You'll leave refreshed, reconnected and excited about the next stage of your business
*These bonuses are not included on the Establish Pathway.
Establish
Between 1-4k mths
Goal: 5k months
£250/month 
---
Business Simplification Tool 
Success Dashboard
Establish Projects
Private Facebook Group 
Copy Reviews with Lola 
Nervous System Sessions with Jo
1x Monthly Mentoring with Gemma
Weekly Group session with Kerrie
30 + 90 Day Reviews
Grow
Between 5-9k mths
Goal: 10k months
£500/month 
---
Business Simplification Tool 
Success Dashboard
Grow + Scale Projects
Private Facebook Group 
Copy Reviews with Lola 
Nervous System Sessions with Jo
2x Monthly Mentoring with Gemma
Weekly Group session with Kerrie
30 + 90 Day Reviews
1:1 Breakthrough with Gemma 
Weekly + 1:1 support with Kerrie
The Study + Template Library 
Bonus #1 Ascension
Bonus #2 Speak The Summit 
Bonus #3 Expert Directory 
Bonus #4 Ticket to our Event 
Scale
Between 10-30k mths
Goal: 50k months
£500/month 
---
Business Simplification Tool 
Success Dashboard
Grow + Scale Projects
Private Facebook Group 
Copy Reviews with Lola 
Nervous System Sessions with Jo
2x Monthly Mentoring with Gemma
Weekly Group session with Kerrie
30 + 90 Day Reviews
1:1 Breakthrough with Gemma 
Weekly + 1:1 support with Kerrie
The Study + Template Library 
Bonus #1 Ascension
Bonus #2 Speak The Summit 
Bonus #3 Expert Directory 
Bonus #4 Ticket to our Event 
When you consider my 6 month 1:1 package is £20k and my one day immersives are £5k, this is a powerful way to get access to my mentorship at a fraction of the price.
How does

Elevate Collective

compare to other masterminds and programs?

Well, it doesn't 😁
What's more, Elevate Collective is
CPD accredited

...

...which means it's stamped 'fit for purpose'.
How many will be in the group?
How much access do I get to Gemma?
What is the refund policy?
How soon can I expect to get results?
How is the program delivered?
What level of personalised feedback can I expect?
Do you have a feedback and complaints procedure?
What if something crops up unexpectedly and I can't show up?
What sort of results have clients go from Elevate Collective?
I know first hand how scary it can be to

invest

.
If you have any questions before you apply, hit the live chat and either I or my team will reach out to you.
Sign Up Here